You can reach the Helpdesk at
706-546-5787
9am-6pm Monday-Friday
10am-4pm Saturday
or by email: helpdesk@negia.net
To get help more quickly, please check the Frequently Asked Questions to see if you problem is addressed.
Frequently Asked Questions:
1. I CANNOT send/receive e-mail AND I CANNOT surf the web:
DSL:

1. Switch off or unplug your Modem.
2. Wait a full 30 seconds.
3. Switch on or plug in your Modem.
4. Wait a full 30 seconds, and try your connection.
5. If this does not fix the problem, or this happens frequently, please call 706-546-5787

Dial-Up:
1. When dialing, make sure your username and password are entered correctly.
2. Please call 706-546-5787 if problem continues.
2. I CAN surf the web, but I CANNOT send/receive e-mail:
Outlook Express:

1. Click Tools and then Accounts.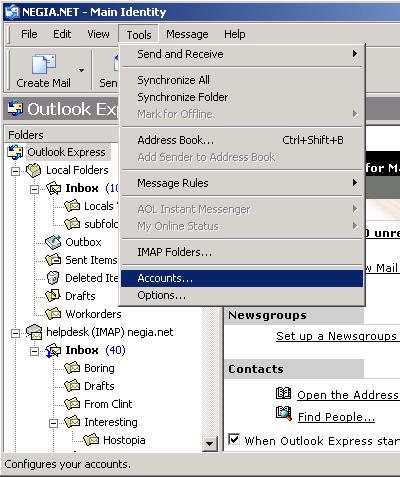 2. Click the Mail Tab, highlight your account, and click Properties.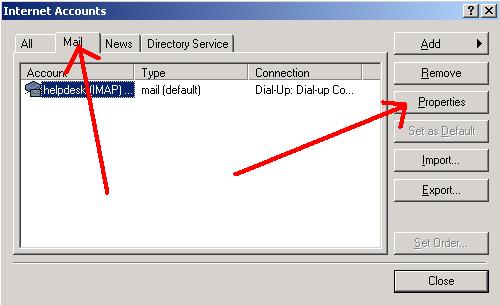 3. Click the Server tab.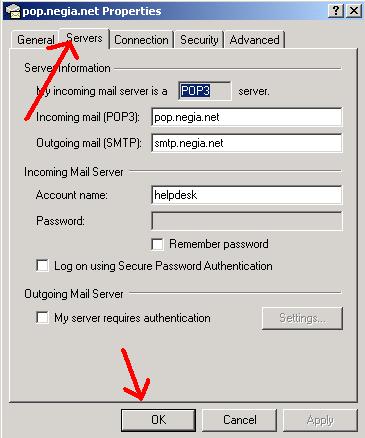 4. Set the server settings like the above.
5. Set the "Account name" to your email address's username.
Note: The "Account name" is what precedes the @negia.net in your email address.
Example: AccountName@negia.net
6. Set your password and check "Remember password" if you don't want to enter a password every time.
7. Click OK, and try to send/receive email, if this doesn't fix it - please call 706-546-5787